How To Be Successful When Working Remotely
Accessibility is now at everyone's fingertips. Emails, phone calls, social media and your connection to the world is always carried with you, in the palm of your hand. With that accessibility, comes a certain level of autonomy and flexibility for work environments. Companies are utilizing the technologies available today to lower the cost of overhead, increase employee's sense of freedom, and align with the changing technological times. But what can you and your firm do to make a remote arrangement successful? 
While the productivity boosts of working from home are getting recognition, as are the skills required to succeed in a remote role; the movement is broader and growing faster than most companies realize or have the ability to adapt.
The very structure of work is changing, and companies are feverishly trying to keep up with the pace. Based on a study conducted by Upwork among more than 1,000 hiring decision makers show how prevalent remote work is becoming:
63% of companies now have remote workers, yet 57% of companies have no remote work policies.
48% of companies use freelancers (up from 43% a year ago), while work done by freelancers increased 168%.
6 times more hiring managers believe agile team structures will become the norm.
3 times as many believe offices will become temporary anchor points versus daily travel destinations.
Home Base
I have been a remote worker for over 5 years. It all began in 2014, when I decided to make the physical move from the hustle-and-bustle of Washington DC, to Virginia Beach. With making that decision, I knew that my current on-site support role was no longer going to be an option. However, to my surprise, my consulting firm offered the option for me to support a client that allowed remote work. Given my history with my consulting firm at the time, leadership felt comfortable in allowing this arrangement. Out of 300 employees, I was the first to test this method of support. My loyalty and tenure with the firm helped make this decision easier for my managers to allow me to pursue this option. 
At first, I will say, it was an absolute struggle to navigate this new sense of loneliness and isolation, while still maintaining productivity. There were no longer drive-by conversations at my cubicle or office gossip at the "water-cooler." This required a brand-new way for me to conduct my support and business. I had to set a strict and specific schedule, to ensure availability to my client. I had to be deliberate and overly communicative with the tasks and activities that I was working on, while providing status as often as possible. I had to rely on voice inflections rather than non-verbal cues, that in-office employees would pick up in meetings. Overtime, this work method became my preferred way of conducting business. I found myself going into the office for "optics" and became much more easily distracted, with my productivity levels decreasing substantially. 
When I had the amazing opportunity to join Marathon Consulting, I posed a question about remote work during the interview process. Leadership indicated that there were already several consultants working from home, and Marathon took thoughtful steps in ensuring that remote employees were very much a part of the company culture. For instance, Marathon makes a concerted effort in including remote employees in all events and training opportunities. We are notified of events early, to provide the opportunity to make travel arrangements in order to participate as often as possible. Even though I had a proven track record in delivering successfully to my past IT clients while being remote, I still was a new face to Marathon Consulting and needed to communicate to leadership how I could support the firm's mission, all while being a thousand miles away. Providing Marathon leadership with my specific strategies in conducting business successfully and productively, as a remote employee, was critical in my interview process. Strategies that have helped me be successful the last 5 years of home-based work include:
Top 7 Strategies to be a Successful Remote Employee: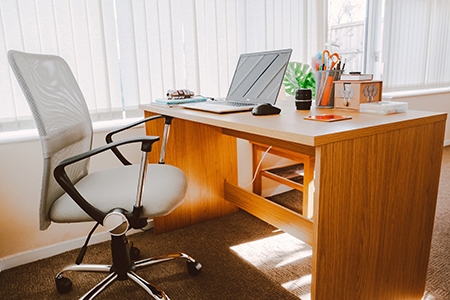 Build your at-home workspace.
Avoiding areas like the couch or the bed, where you can become easily distracted is key to ensuring productivity and focus. Set up a place that has enough space for you to feel comfortable yet not filled with distractions (TVs, near the kitchen etc.). Set up your space just how it would be in a professional setting, to ensure you are surrounded by all of the tools to be productive within the day.
Technology investment
Ensure your internet and Wi-Fi is top speed and buy an at-home printer/scanner/fax machine so you can conduct all of the office capabilities in your home. You don't want to be at a disadvantage by not being able to receive emails in a timely manner or communicate effectively because of technology impediments. Invest in the highest quality of products and services so you are on an even playing field with those in-office employees.
Get comfortable
Ergonomics is vital to working from home. Invest in an office desk and chair that is comfortable yet functional. Upgrade to an ergonomic keyboard and mouse pad, so your body remains comfortable and focused. The more comfortable you are in an office desk / chair set-up, the less tempting it will be to move to the couch or bed since those options are within grasp.
Set work hours
Technology has shifted the "normal work week" era. Remote workers don't have to worry about commute times, but they often end up working during the time they would spend driving. They are also more likely to work through lunch and skip breaks. In addition, remote employees tend to work even if they are sick. Instead of calling in or taking the day off to care for a sick child, they continue to perform tasks and complete deliverables. It's very easy to feel like you are "on the clock" at all hours of the day, since your office is steps away. However, setting expectations with your manager or client on when you are available is key to ensure a healthy work-life balance and will help to avoid work creep.
Discover your 3 P's: Peak Productivity Periods
After adjusting to remote working days, notice your pattern of productivity. For some employees, its first thing in the morning, while others productivity doesn't peak until after lunch. Learn how you operate and adjust accordingly, so you can ensure those hours are utilized to the fullest extent.
Be overly communicative
Have touchpoints with your firm and managers, especially when you first become remote to establish that communication cadence and for everyone to feel comfortable. Provide clear, concise, and consistent communication.
Optics
Making effort to be in-person and attend important staff meetings (all hands), training sessions and social events (happy hours, tailgates, or holiday parties) is critical to show that you are investing in the firm, as they are investing in you. Attending social events also helps foster employee relationships that you can't get while working from home. Making the time and effort to participate in these activities shows a commitment and an investment on both the employee and the firm.
What Does the Job Landscape Look Like Today?
The technology job market today is more competitive than ever. In fact, 1 out 3 Millennials prioritize flexibility and work mobility over salary, when accepting a job offer. Freedom and autonomy are the top priorities for modern employees, so it is crucial for technology firms to adjust and adapt. Now, many people in the workforce believe they are more productive at home than in the office. The truth is, that the office is becoming far more distracting than both employees and employers realize. Some attributing factors includes drive-by cubicle visits, overly-talkative co-workers, excess or unnecessary meetings and abused snack breaks that result in an environment full of distractions.
Remote work is expected to grow stronger in 2020. All signs indicate that society is nowhere close to hitting the plateau. Businesses across public and private sectors increasingly recognize the benefits of hiring and retaining remote workers. Societal trends with Millennials and Gen Z also push more businesses towards adopting more flexible working policies and allowing at least partial telecommuting opportunities.
According to Inc.com, by 2020, Gen Z (people born after 1995) will comprise of 36% of the global workforce. Gen Z'ers grew up in an internet-centric society. They had hands-on, self-taught technology experiences, and as a result, they are likely to be more comfortable with newer technology and more inclined to seek remote or flexible working arrangements, rather than pursue traditional corporate roles. In conclusion, companies should prepare and anticipate the change happening to the workforce.
The Marathon Way
Marathon Consulting has made great strides to get ahead of the remote work wave. I have been with the firm for 2 years and Marathon has made every effort in ensuring this relationship is mutually beneficial. I never feel isolated or out on an island, as that could be a potential byproduct of remote employees. My schedule is always accommodated, and managers encourage me to participate in social events and training opportunities. I attend the quarterly All-Hands meeting, where dinner is provided while we are briefed on updated company news, introduced to new hires and given insights into the health of the firm. These meetings are opportunities to not only obtain Marathon news in-person, but also have the ability to meet, chat and mingle with my fellow co-workers that I wouldn't see otherwise.
Despite our different work locations, we all share one thing in common; we share in the belief of the mission and vision of Marathon Consulting. We choose to work for Marathon every day. I could not be more appreciative of the opportunity of joining the Marathon team, while maintaining my remote status. It has allowed me to flourish in my IT consulting career, while providing me the flexibility and "work freedom" that I value so much.