Starting an IT Career at Marathon as an Intern
I came on board at Marathon as an intern a little over 2 years ago. I was going into my junior year at Old Dominion University seeking a degree in business management and marketing when I joined the Marathon team. At the time I was unsure about what career path I wanted to pursue. Starting out I was training to be an entry level web developer. After my first day at Marathon I quickly understood (or was confused by) how complex the IT world was, and I realized I had a lot to learn. Luckily, Marathon provides all employees a great deal of resources to help with professional development and training. The first resources I was given were 2 books; one was about HTML basics and the other was about using CSS. I studied these books in and outside of work trying to get up to speed as quickly as possible. Marathon is also subscribed to Pluralsight, which is an online education company that provides training videos and tutorials pertaining to the IT industry. Pluralsight was a very useful resource for my training because I was able to follow along and mimic the skills I was being taught. Pluralsight access is made available for all employees at Marathon at any time. This means if an employee finds they need training in certain area, or just want to expand their knowledge, they can access Pluralsight for training at any point during their career with Marathon. This has been an ongoing useful resource for me for two years now.
While training videos can be extremely helpful, most people find that on the job training is the most efficient way to learn a new skill. Marathon makes this an easy experience for all employees. The Marathon team has a wide range of skills and areas of expertise. This means the team not only has a lot to offer our clients, but we also have a lot of knowledge to offer one another in order to expand each other's knowledge base. The amount of knowledge and willingness to help held by the employees at Marathon made getting up to speed an easy process. People at Marathon are not just willing to help, but you can tell they actually enjoy it because they are excited to take part in the development of their fellow employees. As an intern I had a lot of questions for just about every employee in the building. I thought this was odd at the time, but after being with Marathon for a couple of months, I witnessed several new hires coming on board as developers. In my two years at Marathon I have witnessed several young developers in a similar situation to mine join the team. I quickly realized I was not the only one with questions. At Marathon, employees are asking each other questions and working with one another all day every day! Starting a new job can often be intimidating, especially for a 20 year old college kid working with a lot of people who are well into their careers. Marathon quickly made me feel at home. The team-building events played a big part in this. At Marathon I have participated in a Tide's game family night, two Washington Nationals bus trips, three CHKD 8K races, a CHKD dragon boat race, cookouts, foodie days at the office, a chili cook off, and more! The camaraderie, extensive knowledge base of the team, and willingness to help one another have all played a big part in my development and I think all my coworkers would say the same was true for them.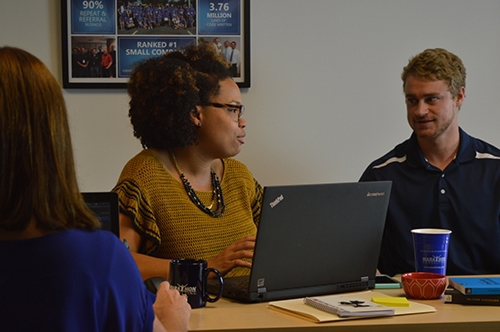 After training at Marathon for a couple of months I was quickly able to become productive. I worked on some entry level development tasks with the assistance of some of my coworkers. Most of the websites we develop at Marathon are built using the Umbraco CMS. A majority of the work I did starting off was done inside Umbraco. I learned how to create and build out pages within Umbraco. Once I was experienced working in Umbraco, I became responsible for building out pages and adding content to a majority of the projects we worked on. I was (and still am) responsible for building out a platform for the client to provide us content for each page on their website. The platform we use is a web based application called Gather Content, which allows us to create a project for each client. Each Gather Content project includes every content page that we will be creating for the client. Each page is built out according to the custom page design. Once I became familiar with the process at Marathon I was able to begin providing client training on how to use their custom built Gather Content project. Once we finish creating a website, I am responsible for training the client on how to use Umbraco in order to make changes, and add content to their new website. Working with clients has been perhaps the most valuable step in my professional development. It has helped me immensely to improve my public speaking skills and confidence. At Old Dominion I have sat through hundreds of presentations from other students. It is clear to me that public speaking and being able to present professionally is an important skill that a lot of young people lack. I have learned a lot of valuable skills at Marathon and at Old Dominion, but I think having the opportunity to work with people and make presentations in a professional environment has been one of the most valuable assets to put me on a successful career path.
A good part about coming to Marathon as an intern was that I didn't have an official job title. This gave me the chance to work on a variety of tasks and explore career path opportunities. While at Marathon I have completed a great deal of training and work with web development, CMS content management, documentation, Google AdWords, Google Analytics, Adobe Photoshop, cross browser testing, ADA testing, user experience, content strategy, and much more. Having the opportunity to explore several different paths has allowed me to determine what career path I wanted to pursue. I realized that I didn't have a passion for programming. I recently graduated with a degree in business management and marketing so I didn't have much of an IT background outside of Marathon. After two years of doing a wide variety of tasks, I realized I prefer overseeing the process of an entire project and working more directly with the clients. This allows me the ability to work with several coworkers and clients on a daily basis which I enjoy. After a discussion with my boss we decided that training to be a project manager would be the ideal path for me. I am excited to take the skills I have learned so far and expand upon them while pursuing my new career at Marathon. Coming to Marathon as an intern two years ago has been the single greatest factor in my professional development and has definitely put me on track to be successful in the future!