A Message From Marathon Consulting
An Update on our Service & Operations During the COVID-19 Crisis
March 20, 2020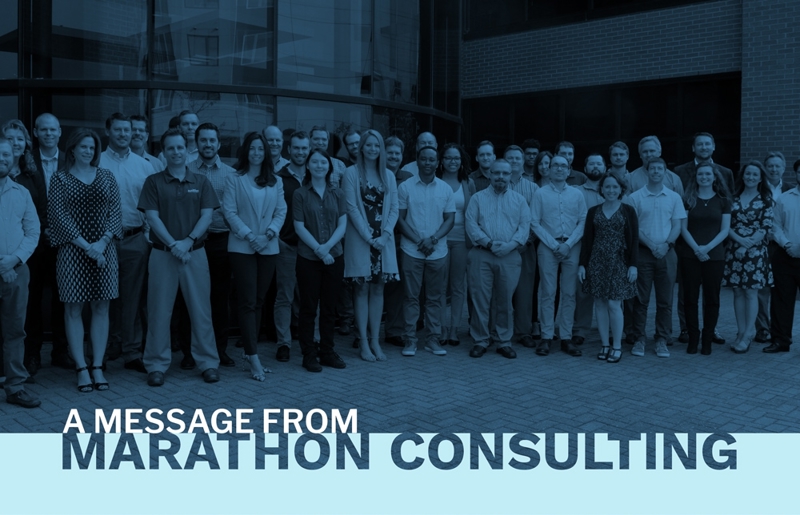 To Our Valued Partners,
We, at Marathon, wanted to take the time reach out and express our gratitude for your great efforts to work amid the uncertainty surrounding the COVID-19 crisis. As we have been working tirelessly to ensure there is no drop off in the level of our service to you, we have already witnessed the great example being set by our clients. We all understand the uniqueness and seriousness of these challenging times, but I believe we also appreciate that, as with any crisis that has befallen our society in the past, we will rise to the occasion, and it will bring out the best in all of us.
At Marathon, I am happy to inform you that there have been no reported cases of the virus amongst our staff. To help minimize risk to our employees and their families, we asked our employees to work remotely. Our goal is to take all steps possible to:
Ensure the health of our team; and
Provide our clients with uninterrupted service and maximized productivity.
Internally, we have outlined guidelines to help ensure this. As always, our goal will be to exceed your expectations. Key components revolve around effective communication, standards around meetings and the setup of a productive working environment from home. As a company, we have adopted Microsoft Teams as our standard for audio and video conferencing. While this was already being utilized, it has gained a whole new level of utilization, internally and with our clients. Fortunately, for most our consultants, remote work was already commonplace or the norm, so this change has not been a major one.
Moving forward, be on the lookout for regular communications from us in the form of email newsletters that will keep you updated on things from the Marathon side, while spotlighting members of our team and highlighting positive examples of how we are working through these circumstances collectively.
We wish you all the very best and thank you for your continued faith and support. If you have any questions or concerns, please feel free to reach out at any time.
Harris Pezzella, President
Virginia Beach Office (HQ)
4525 Columbus St, Suite 200
Virginia Beach, VA 23462