City of Suffolk Renews Website Maintenance Contract with Marathon Consulting
June 11, 2012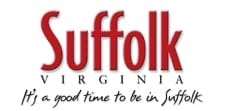 Marathon Consulting, LLC, a Hampton Roads Virginia-based provider of Information Technology solutions, announced today that the City of Suffolk has renewed its website maintenance contract with Marathon for an additional year. The original contract was awarded in 2011, and Marathon has been providing website design and development services for the City of Suffolk's public websites, including content management system (CMS) implementation, website design, and maintenance.
Quotes
Al Moore, President of Marathon Consulting, said, "Marathon is very pleased to serve the City of Suffolk. Being able to leverage our web and internet expertise in a municipal environment has been very rewarding in that we have been able to deliver the desired results on a cost-effective basis".
Tim Kelly from the Media and Community Relations Department of the City of Suffolk said, "The City of Suffolk has greatly benefited from the website services provided by Marathon Consulting. In our first year with Marathon, we have seen unique and innovative solutions provided in the website development field. We are excited about renewing our contract with Marathon and the progress we can expect in the next year with our website".
Virginia Beach Office (HQ)
4525 Columbus St, Suite 200
Virginia Beach, VA 23462