Latest Release of ODU InGame Includes Baseball and Soccer
March 12, 2014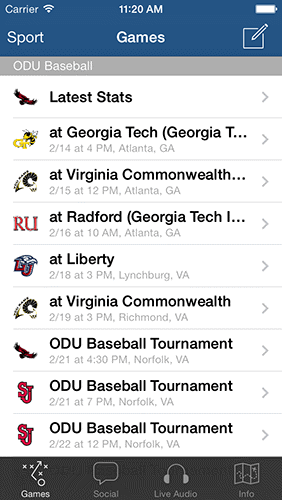 Marathon Consulting, LLC is excited to announce the latest ODU InGame Stats App that was just released for ODU Sports. ODU InGame Stats, provided by Verizon Wireless, gives you real-time, home game statistics right from the scorer's table by utilizing a user interface tailored to the iPhone and iPad. The app covers home games for football, men's & women's basketball, baseball, and men's & women's soccer. The app displays stats in both landscape and portrait view to optimize the display of the statistical data.
ODU InGame Stats gives you the ability to navigate among stats summaries, individual stats, and a complete play-by-play display without making you refresh the display or click buttons to navigate.
Features include:
Social: Integrated Twitter functions enable fans and the school to participate in chat sessions related to the game, even down to a specific play. Follow the #ODUSports hashtag.
Live Audio: Includes ESPN radio and live broadcasting for football and basketball.
Maps: A map feature that provides filtering, allowing fans to locate ATMs, parking, concessions, first aid stations, nearby restaurants, and other point of interest.
Info: Enables fans to retrieve information on such topics as facility and campus policies, fund raising, alumni activities, etc.
Quotes
"We are very pleased to have the opportunity to work with Old Dominion's Athletic Department," said Harris Pezzella, President of Marathon Consulting. "Our relationship with ODU goes back to 2009. The ODU brand represents high performance and we are proud to be associated with it," continued Pezzella.
Virginia Beach Office (HQ)
4525 Columbus St, Suite 200
Virginia Beach, VA 23462