Tom Marsden has been elected as chairman of the board on tHRive's Board of Directors
Will serve as chairman of the board for the 2021 and 2022 calendar year
March 04, 2021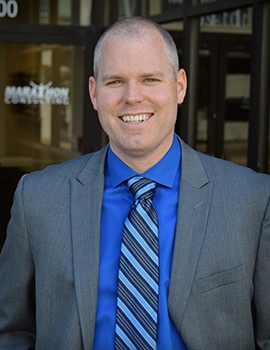 Marathon Consulting is pleased to announce that Tom Marsden has been elected as chairman of the board on tHRive's Board of Directors for the 2021 and 2022 calendar year. tHRive, the young professional program of the Hampton Roads Chamber, is approaching its sixth year as one of the 757's premiere young professional networks and boasts a roster of over 3,000 diverse members in practically all of the region's primary industries.

Tom will take on the leadership role of board chair, which is responsible for overseeing all aspects of tHRive, focused on executing the goals and vision of the young professional organization. Tom has the board planning for a renewed and re-energized 2021. Specific goals include: getting back and delivering tHRive's core principles of professional development, creating strong relationships, and community engagement; reengaging current members of tHRive and attracting new members; enhancing the diversity of tHRive as a representation of Hampton Roads' young professional community; and championing the responsibility of tHRive's members to give back to and make an impact in the community, among many others.
Quotes
When asked why Marsden was selected as Chair, President and CEO of the Hampton Roads Chamber, Bryan Stephens said, "tHRive is an immensely important program of the Hampton Roads Chamber. It provides a platform for young professionals in the business community to cultivate regional awareness and community development and gives them a voice to help shape the future of our region. In order to ensure tHRive's continued success this year we needed an energetic, dynamic leaders as it's Chair. Tom Marsden is that leader! I look forward to watching as he takes tHRive to the next level".
Harris Pezzella, President of Marathon, said "As Hampton Roads faces the ongoing challenges of these uncertain times, we are all well-served in identifying exceptional individuals such as Tom to lead the way, whose boundless energy and unceasing commitment to getting things done have followed him wherever he has gone and has made him a shining star at Marathon and within the entire business community. Congratulations to Tom for this well-deserved honor and for tHRive on making a choice that will benefit them and all their members for time to come."
Virginia Beach Office (HQ)
4525 Columbus St, Suite 200
Virginia Beach, VA 23462