Tom Marsden has been elected to tHRive's Board of Directors
Will serve as Vice Chair of Regional Engagement
February 26, 2020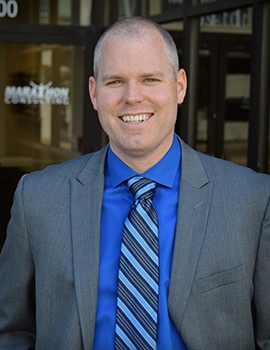 Marathon Consulting, LLC, a Virginia-based Information Technology Consulting and Digital Marketing provider, today announced that Tom Marsden, Associate Vice President, has been elected as Vice Chair of Regional Engagement on tHRive's Board of Directors for the 2020 calendar year. tHRive, the young professional program of the Hampton Roads Chamber, is approaching its 5th year as one of the 757's premiere young professional networks, and boasts a roster of over 2,200 diverse members in practically all of the region's primary industries.
Tom will take a leadership role on the Regional Engagement committee, which is responsible for volunteer outreach efforts, polling, and tHRive's biannual Regional Report. He will also be integral in developing tHRive's new civic engagement initiative throughout his 2-year term on the Board.  
Quotes
"As we begin 2020, I am very pleased to have Tom joining our Board of Directors," says tHRive Chairman Daniel Sileo. "He will no doubt play an integral role in representing the young professional community, and I commend him for committing time and energy into moving our region forward through his work with tHRive."
Harris Pezzella, President of Marathon, said "We are happy and excited for tHRive, who will be the beneficiary of the boundless energy, dedication and insight that accompanies working with Tom. We know firsthand that when Tom becomes passionate about something and then commits to it, the potential immediately increases significantly. We want to congratulate tHRive for their choice and Tom for this next challenge that will undoubtedly prove to be another mile marker in a long list of accomplishments."
Virginia Beach Office (HQ)
4525 Columbus St, Suite 200
Virginia Beach, VA 23462