Marathon Consulting Named as One of Virginia's 2023 Best Places to Work
Nine Time Winner, Ranking 35th in Small Employer Category
February 06, 2023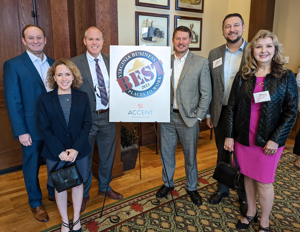 Marathon Consulting, LLC, a Virginia-based Information Technology Consulting and Digital Marketing firm, was recently named as one of the 2023 Best Places to Work in Virginia. The annual list of the Best Places to Work in Virginia was created by Virginia Business Magazine and Best Companies Group.
This year's award marks the company's 9th year as a Best Place to Work in Virginia, ranking at 35 out of 58 small employers across Virginia.
Previous year's rankings include: 
2021 - 27th
2020 - 9th
2019 - 14th
2018 - 6th
2017 - 12th
2016 - 1st
2015 - 19th
2013 - 12th
Quotes
Tony Cortinas, President of Marathon, said, "We are honored to be receiving this recognition amongst our peers across the state of Virginia. We place a special emphasis on investing and taking care of our greatest asset, our people, and it is fulfilling to receive this award knowing it's their feedback that is directly responsible. I would like to say thank you to each and every one of our team members that continue to make Marathon a great place to work!" 
About Best Places to Work
This statewide survey and awards program is designed to identify, recognize and honor the best places of employment in Virginia, benefiting the state's economy, workforce, and businesses. The 2023 Best Places to Work in Virginia list is made up of 100 companies.  
To be considered for participation, companies had to fulfill the following eligibility requirements:  
Be a for-profit, not-for-profit business or government entity; 
Be a publicly or privately held business;
Have a facility in the state of Virginia;
Have at least 15 employees working in the state of Virginia; and
Be in business a minimum of 1 year.
Companies from across the state entered the 2-part survey process to determine the Best Places to Work in Virginia. The first part consisted of evaluating each nominated company's workplace policies, practices, philosophy, systems and demographics. This part of the process was worth approximately 25% of the total evaluation. The second part consisted of an employee survey to measure the employee experience. This part of the process was worth approximately 75% of the total evaluation. The combined scores determined the top companies and the final ranking. Best Companies Group managed the overall registration and survey process in Virginia and also analyzed the data and used their expertise to determine the final ranking.
---
About Marathon Consulting, LLC
Since 2006, Marathon Consulting has been an industry leader in providing IT solutions to businesses ranging from small/medium-sized to global Fortune 500 companies in the Mid-Atlantic region and across the country. Marathon Consulting is a Microsoft Gold partner and offers a wide range of IT services including web and native application development, data integration and analytics, IT advisory, UX design, and digital marketing. With comprehensive expertise, innovative thought leadership, and dedication to quality, Marathon helps businesses succeed by delivering the right IT solutions and measurable value in every engagement.
Virginia Beach Office (HQ)
4525 Columbus St, Suite 200
Virginia Beach, VA 23462