Marathon Consulting Named Best Overall Company in Best Places to Work 2014
July 23, 2014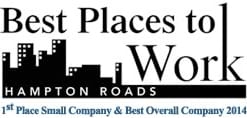 Marathon Consulting, LLC, a Hampton Roads-based provider of Information Technology and Internet Marketing services, announced today that the firm was recently awarded 1st Place Small Company and Best Overall Company in Best Places to Work 2014 in Hampton Roads. This is the 3rd year in a row that Marathon has received an award, finishing in 2nd place in the Small Company category in 2013.
The honor, awarded by Inside Business magazine, is based upon a description of the work environment, benefits, and other characteristics that contribute to an attractive employment situation. Employee participation in an online, anonymous survey is used to validate results. That participation must achieve defined minimums for the company to become eligible.  
Quotes
"We would like to congratulate all of the great companies who were recognized this year. This is a great testament to them and Marathon on how they run their organizations in such a way that values the individual, beyond his or her contribution to the company bottom line," said Harris Pezzella, President of Marathon Consulting.  "At Marathon, we have always placed the highest emphasis on the dignity of the individual and the quality of our services, building our company around those two principles first and foremost. In winning this award, it gives us a moment to reflect on what we have done right thus far and how we can do it even better in the future. We are very grateful to our team; they are the true reason that Marathon is such a great place to work," he continued.
Virginia Beach Office (HQ)
4525 Columbus St, Suite 200
Virginia Beach, VA 23462