Marathon Consulting Ranked One of the 2013 Best Places to Work in Virginia
January 24, 2013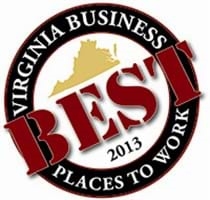 Marathon Consulting, LLC, a Virginia Beach-based provider of Information Technology solutions and Internet Marketing services, announced it was recently named as one of the 2013 Best Places to Work in Virginia. The annual list of "Best Places to Work" was created by Virginia Business and Best Companies Group. Marathon ranked #12 in the small employer category.
This survey and award program was designed to identify, recognize, and honor the best places of employment in Virginia, benefiting the state's economy, work force, and businesses. The Best Places to Work in Virginia list is made up of a total of 80 companies, split into 3 groups: 39 small employers, 15 mid-sized employers, and 26 large-sized employers. Marathon has been named one of the Best Places to Work in Virginia in the small category.
Quotes
"Marathon has always been a very employee-oriented organization. We recognized that the real value of the company resides within our consulting staff and their ability to meet the needs of our clients," said Al Moore, President of Marathon. "We place a high emphasis on treating our staff well and making Marathon a place where the best people want to work. This results in low turnover and our ability to provide continuity to our clients."
Virginia Beach Office (HQ)
4525 Columbus St, Suite 200
Virginia Beach, VA 23462