Marathon Consulting Receives Award in 2023 Hunger Heroes Competition to Support the Foodbank
Awarded 1st Place in the Large Business Category
October 24, 2023
Marathon Consulting, LLC, a Virginia-based Information Technology Consulting and Digital Marketing firm, was recently awarded 1st place in the large company category of 2023 Hunger Heroes Food and Fundraising Competition to support the Foodbank of Southeastern Virginia and the Eastern Shore.
The summer months – known as the summer meal gap - present a challenge for the Foodbank in meeting the needs of the community due to rising costs, higher demand, and slower donations. The Hunger Heroes food and fundraising competition was established as an annual summer event to raise awareness, donations, and support during this crucial time.
Marathon has been a long time supporter of the Foodbank, and this summer's event marks Marathon's 5th year participating in the Hunger Heroes competition. It was also the company's largest fundraising contribution to date, having raised a total of $17,495, which is the equivalent of 23,966 meals. In addition, the Marathon leadership team donated their time volunteering with the Eastern Shore Chapel Food Pantry, a Foodbank partner and one of the largest food pantries in Hampton Roads.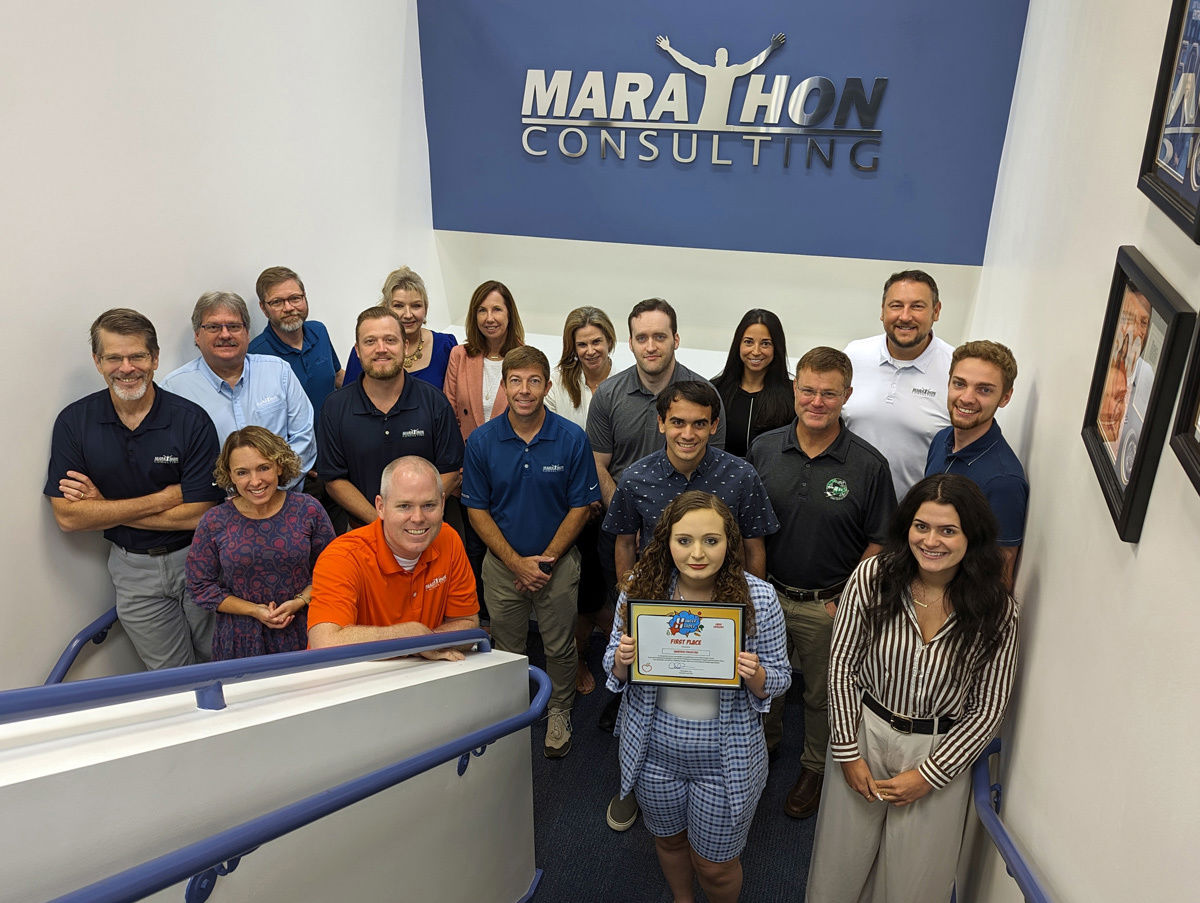 Quotes
Tom Marsden, Vice-President of Marathon, said, "The Marathon team is always engaged and ready to support the Foodbank of Southeastern Virginia and the Eastern Shore, and the Hunger Heroes campaign is a fun and rewarding way to direct our enthusiasm. In the summer, donations often slow down making it difficult to meet the needs of our communities. We are proud that our Marathon team can come together to support the Foodbank during this challenging period."
"The Hunger Heroes competition embodies the collective power of our community to make a lasting impact on food insecurity," said Foodbank President and CEO Chris Tan. "Marathon Consulting's collaboration has guaranteed that nearly 24,000 additional meals reach the households of our neighbors facing hunger, furthering the Foodbank's mission to provide access to nourishing meals and a brighter future for all."
About the Foodbank of Southeastern Virginia and the Eastern Shore 
For more than 40 years, the Foodbank of Southeastern Virginia and the Eastern Shore has provided more than 360 million meals to those in our community who face hunger. Through our programs, facilities, and large network of community partners, we work to eliminate hunger daily. Our understanding of the need for a long-term solution has led to the creation of a refreshed strategic plan aimed at moving Hampton Roads closer to achieving the mission of eliminating hunger for those we serve—not only for the day, or for the week, but for a lifetime. For up-to-date information on the Foodbank, visit www.foodbankonline.org, Facebook, or Twitter. 
---
About Marathon Consulting, LLC 
Since 2006, Marathon Consulting has been an industry leader in providing IT solutions to businesses ranging from small/medium-sized to global Fortune 500 companies in the Mid-Atlantic region and across the country. Marathon Consulting is a Microsoft Gold partner and offers a wide range of IT services including web and native application development, data integration and analytics, IT advisory, UX design, and digital marketing. With comprehensive expertise, innovative thought leadership, and dedication to quality, Marathon helps businesses succeed by delivering the right IT solutions and measurable value in every engagement.
Additional Photos
Virginia Beach Office (HQ)
4525 Columbus St, Suite 200
Virginia Beach, VA 23462