Marathon Consulting Recognized in 2023 Top Virginia Employers for Interns Awards
August 28, 2023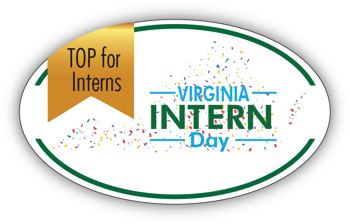 Virginia Beach, VA., August 28, 2023 - Marathon Consulting, LLC, a Virginia-based Information Technology Consulting and Digital Marketing firm, was recently selected as one of the 2023 Top Virginia Employers for Interns award winners by the Virginia Talent + Opportunity Partnership (V-TOP).
This award recognizes Virginia employers who provide exceptional internship opportunities to students. Recipients of the award are recognized for their commitment to creating rewarding internship programs that include mentorship, exposure to company leadership and operations, hands-on training, opportunities to take on challenging and meaningful work, and team collaboration.
Quotes
Tom Marsden, Vice President of Marathon, said, "Marathon is extremely proud of our internship program and consider it an integral part of growing our company, as well as an important way to support young people who are just getting started with their IT careers. It's a win-win: our interns bring fresh perspectives to the work we do at Marathon, and they gain invaluable real-world experience they can build on for the future. We are fortunate to have organizations such as V-TOP and the 757 Regional Internship Collaborative who are dedicated to supporting higher education, nurturing young talent, and strengthening Virginia's workforce."
Read the official press release: News Release: Virginia employers recognized for internship programs 
Watch the video press release on YouTube: 2023 Virginia Intern Day 
About V-Top 
V-TOP is administered by the State Council of Higher Education for Virginia in partnership with the Virginia Chamber of Commerce Foundation and the Virginia Business Higher Education Council. It is funded by the General Assembly's Commonwealth Innovative Internship Fund and Program.
---
About Marathon Consulting, LLC 
Since 2006, Marathon Consulting has been an industry leader in providing IT solutions to businesses ranging from small/medium-sized to global Fortune 500 companies in the Mid-Atlantic region and across the country. Marathon Consulting is a Microsoft Gold partner and offers a wide range of IT services including web and native application development, data integration and analytics, IT advisory, UX design, and digital marketing. With comprehensive expertise, innovative thought leadership, and dedication to quality, Marathon helps businesses succeed by delivering the right IT solutions and measurable value in every engagement.
Virginia Beach Office (HQ)
4525 Columbus St, Suite 200
Virginia Beach, VA 23462