Marathon Consulting Sponsors the 2018 Hampton Roads Heart Walk
October 30, 2018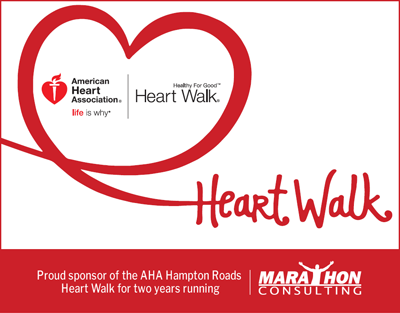 Marathon Consulting, LLC, a leading provider of Information Technology and Digital Marketing solutions, headquartered in Coastal Virginia, was proud to be a sponsor for 2018 Hampton Roads Heart Walk. The Heart Walk is the American Heart Association's premier event for raising funds to save lives from this country's No. 1 and No. 5 killers: heart disease and stroke.
This is the 2nd year that Marathon has sponsored the Hampton Roads Heart Walk and has participated in both the Peninsula and Southside events. The mission of the AHA is to be a relentless force for a world of longer, healthier lives. By 2020, they aim to improve the cardiovascular health of all Americans by 20% and to reduce deaths from cardiovascular diseases and stroke by 20%.
Quote
Harris Pezzella, President of Marathon Consulting, said, "Marathon has always taken great pride in supporting various causes within the community, particularly those that support the health and wellbeing of our citizens. As a 2nd year sponsor of the American Heart Association Heart Walk, it was a privilege to be involved in an amazing event with many of our friends in the corporate world and the thousands of individuals who participated and celebrated the best in the human spirit."
About AHA
The American Heart Association is the nation's oldest and largest voluntary organization dedicated to fighting heart disease and stroke. Founded by 6 cardiologists in 1924, their organization now includes more than 33½ million volunteers and supporters. Heart disease is the No. 1 killer worldwide. Stroke ranks 2nd globally and is a leading cause of severe disability.
They have funded more than $4.1 billion in cardiovascular and stroke research, more than any organization outside the federal government. They have funded 13 Nobel Prize winners and many lifesaving research advances such as the first artificial heart valve, cholesterol-lowering drugs, heart transplantation, and CPR techniques.
Visit the Hampton Roads American Heart Association website to learn more about the event or to make a donation.
Virginia Beach Office (HQ)
4525 Columbus St, Suite 200
Virginia Beach, VA 23462