Marathon Consulting the Presenting Sponsor of the 2022 CHKD RunWalk for the Kids
May 19, 2022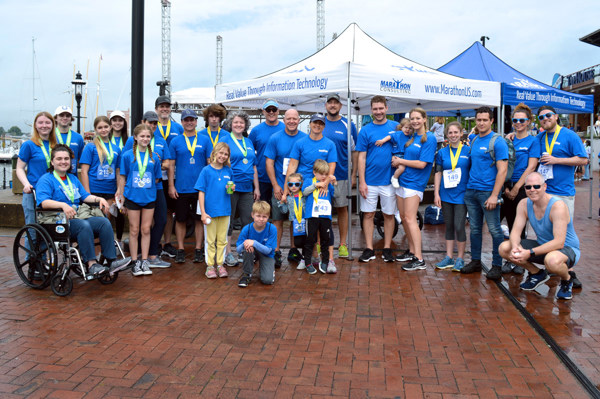 Marathon Consulting, LLC, a Virginia-based Information Technology Consulting and Digital Marketing firm, is proud to announce that again this year, the firm was the presenting sponsor of the CHKD RunWalk for the Kids. After a 2-year hiatus, the fundraising event returned to Waterside Norfolk to support the Children's Hospital of the Kings Daughters Mental Health Program and featured an 8k race, and 2-mile family walk.
The early morning rain did not stop the Marathon team from showing up to participate, and we were proud to accept the award for the corporate team with the most participants.
Quotes
Harris Pezzella, President of Marathon Consulting, said, "The Children's Hospital of the Kings Daughters and all that they stand for related to the pediatric heath in Hampton roads has long spoken to heart of what Marathon believes with regard to giving back to our community. The return of their signature fundraising event, the CHKD RunWalk for the Kids, which returned after being cancelled the previous 2 years, represents a return to many of things that we all hold in high regard, specifically coming together as a community with great people in support of our most precious asset, our children. This year's event was a great reminder of just how special the people associated with the King's Daughters and CHKD are, and how dedicated their support in our community continues to be." 
Lisa Coleman, Executive Director of The King's Daughters, said "The King's Daughters have weathered the storm with the help of Marathon Consulting, in raising funds, friends and awareness for CHKD. They are true friends to us, and all the patients and families at CHKD."  She continued, "We are indebted to the very kind and generous support from our community, specifically Marathon Consulting, who has been there for us every year as presenting sponsor, thank you!  They are helping The King's Daughters light the way for pediatric mental health at CHKD." 
About CHKD
CHKD is the only facility of its kind in Virginia and serves the medical and surgical needs of children throughout greater Hampton Roads, the Eastern Shore of Virginia, and northeastern North Carolina. The not-for-profit hospital never turns any child away. Last year children made more than 500,000 visits to CHKD caregivers as inpatients and outpatients, for routine and complex illnesses, injuries, and chronic conditions.
Additional Photos
Virginia Beach Office (HQ)
4525 Columbus St, Suite 200
Virginia Beach, VA 23462