VASAP and Marathon Win RVATECH's 2020 Innovation in Public Sector Award
Richmond, VA
October 08, 2020
The Commission on the Virginia Alcohol Safety Action Program (VASAP) Awarded 2020 Innovation in Public Sector Award by RVATECH for INSPIRE Mobile App Developed by Marathon Consulting
Marathon Consulting, LLC, a Virginia based Information Technology Consulting and Digital Marketing firm, announced that The Commission on Virginia Alcohol Safety Action Program (VASAP) has been awarded the Innovation in Public Sector Award at the 2020 RVATECH/Gala.  The RVATECH/Gala, otherwise known as the "Academy Awards" of technology for the Richmond area, showcases and recognizes individual accomplishments, corporate wins, non-profit success stories, innovation excellence, and growing small business.  
The Innovation in Public Sector Award is awarded to a public agency whose creative use of existing or development of new technology enhances processes, methodologies and/or services for their own or others' benefit.  VASAP won the award for their INSPIRE mobile app developed by Marathon Consulting.  The INSPIRE mobile app was developed to provide an efficient solution to the oversight of the Ignition Interlock Program, which involved an arduous inspection process that has typically been very time consuming.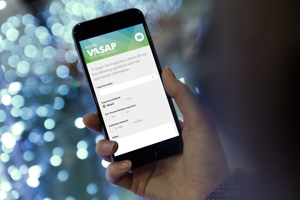 INSPIRE is a secure, user-friendly mobile application that is available for use from both the Apple and Google application stores.  The application allows the public to locate and get directions to VASAP sanctioned vendors, as well as allowing VASAP inspectors to visit the facilities and perform their inspections online using their smart phone. The system was designed to increase reciprocity, standardization, and knowledge-sharing for any state's Interlock program for their citizens and VASAP-like state agencies.  Today INSPIRE is not only being used in Virginia, but is also being used in Pennsylvania and Nevada, with California on the way. 
Quotes
Harris Pezzella, president of Marathon Consulting, said 
"
This recognition by 
RVATECH
 is a testament to the vision, creativity and collaborative skills of the entire staff of the 
Commission of VASAP
. In partnering with the 
VASAP
, Marathon was given the opportunity to showcase many of the software and project skills that have always been foundational components to who we are as a solutions organization. However, we recognize that the success of projects such as the 
INSPIRE
 mobile application very much hinge on the quality of both organizations. On behalf of Marathon and our entire project team, I would like to congratulate 
VASAP
 on this 
well-deserved
 award and thank them for the honor of allowing us to play our part in providing the technical talent and resources to help make their vision become a reality.
"
About RVATECH
Originally formed in 1989, RVATECH is a member-driven association of businesses and organizations working together to ensure the continued growth of Greater Richmond's dynamic technology-based economy.  Their mission is to promote the success of technology companies and the growth of the technology sector within the Central Virginia economy. 
About The Commission on Virginia Alcohol Safety Action Program (VASAP) 
The Commission on the Virginia Alcohol Safety Action Program (VASAP) is a state agency focused on reducing the number of impaired driving-related crashes. They are responsible for oversight of Virginia's Ignition Interlock Program and ensuring that participants and Interlock Vendors are abiding by state regulations. 
Richmond Office
4480 Cox Rd, Suite 270
Glen Allen, VA 23060