Marathon Consulting Awarded as a 2013 Hampton Roads "Roaring 20"
November 22, 2013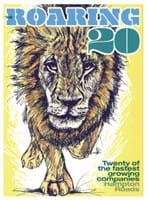 Marathon Consulting, LLC, a Hampton Roads-based Information Technology and Internet Marketing Services provider, announced being honored with a Roaring 20 award. The award highlights Hampton Roads' fastest growing and dynamic companies. Marathon experienced 81% growth from 2010 to 2012, and nearly doubled the number of employees from 22 to 41.
Quotes
Harris Pezzella, President of Marathon, stated, "We are extremely proud to receive this prestigious award and congratulate all of the honorees, several of whom are Marathon clients. At Marathon, growth is always viewed as representative of the acceptance we've won among the Hampton Roads business community and the growing number of clients with whom we have strong and lasting relationships." 
About The Roaring 20 Awards
For a company to be eligible for the Roaring 20 award, it needed to be headquartered in the Hampton Roads area and established prior to fiscal year 2010, realized gross revenues of at least $2 million in 2012, and experienced 3 years of growth. After nominations were submitted to Inside Business, Cherry Bekaert conducted short interviews with the finalists and verified financial data.
Virginia Beach Office (HQ)
4525 Columbus St, Suite 200
Virginia Beach, VA 23462